Producers We Love: Comando G
Tucked away in the rugged Sierra de Gredos mountains lies one of Spain's best-kept viticultural secrets and we're here to let you in on it. Founded in 2008 by Daniel Jimenez-Landi and Fernando Garcia, Comando G highlights the unique and craggy growing sites of mountainous central Spain. These wines have been compared to the likes of some of the Southern Rhône's best-- think Rayas-like aromatics meets traditional Burgundian texture. Intrigued? We thought so. Read on to discover one of our favorite winemaking duos in all of Spain.
History
Comando G was created by longtime friends Daniel Jimenez-Landi and Fernando Garcia, two passionate vignerons who first met while studying oenology at the University of Madrid back in 2005. Post university, the duo found themselves working in Spain's Sierra de Gredos at the same moment. Daniel was working at his family estate, Bodegas Jimenez-Landi, while Fernando wasn't too far away at neighboring Bodega Marañones. After many discussions (and glasses of local wine), the duo realized their shared passion for the region's unique terrain and hidden vineyard sites. As a joint venture, the two began purchasing and renting the best vineyard plots they could find and officially founded Comando G three years later.
Above all, Dani and Fernando shared a mutual passion for Garnacha, which was long considered as a 'workhouse variety' by many Spanish winemakers. However, after tasting many of the incredible examples hailing from Southern France and other parts of the world, the duo felt confident that they could make varietal bottlings that both rivaled some of the world's most best, while simultaneously showcasing Sierra de Gredos' unmatchable terroir.
Today
Today, Daniel and Fernando organically and biodynamically farm 10 hectares of vines across the Sierra de Gredos. Vines range in age from 50 to 80 years old and are rooted in granite, slate, and quartz dominant soils. High altitudes and well-draining earth create ideal growing conditions for the pair's fruit, which is dedicated to Garnacha, Garnacha Blanca, and Garnacha Gris plantings. Most of Comando G's growing sites are humid and provide long growing seasons for their vines. Fruit is always harvested by hand, with harvest generally taking place in the month of October. Each vineyard site is labeled as a Vino de Parcela (single-vineyard), as the duo seeks to bring out each of the unique nuances and details from each of their precious plots.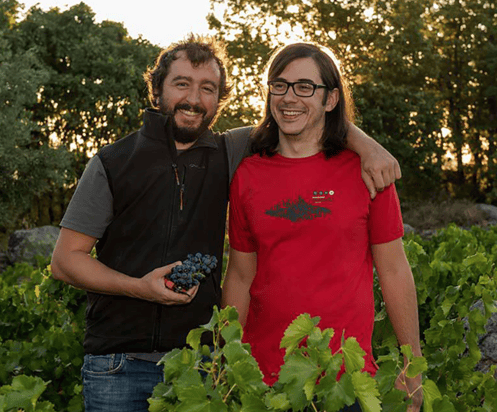 📸 : European Cellars
Region
Sierra de Gredos is located in central Spain and is dominated by a warm continental climate. The region is bordered by La Mancha to the south and Zamora to the north, the latter of which is also known for its long history of grape growing. Unlike other more 'polished' Spanish winegrowing regions, Sierra de Gredos is known for its rugged landscapes and scrubby vineyard sites, most of which are rooted into staggering mountainsides. Some of these plots are even cultivated at 900-1200 meters above sea level, making vineyard access quite difficult. Because of this inaccessibility, the majority of plots are farmed organically and have remained untouched for a long time. Here, gnarly vines can easily range up to 100 years in age and a good handful of them remain ungrafted. Granite soils (which Garnacha thrives in) dominate the hillside plots, though the Garnacha from Sierra de Gredos tends to be a bit more acidic and tannic than that of France or Australia.
Vinification + Wines
Each of Comando G's single-vineyard bottlings is compelling and thought-provoking in its own right. The wines are pale in color and are marked by head-spinning aromatics. Fermentations are done with whole clusters (for the reds) and native yeasts, followed by slow macerations and aging in a combination of used large-format French oak, foudre, and clay amphoras. Comando G's wines are known for their freshness, elegance, and insane ability to age, though above all, their soil-driven nature and terroir reflection are what put them in a whole different ballpark than most other wines coming out of Spain.
Comando G makes seven single-vineyard cuvées from their ten hectares of vines: El Tamboril, La Bruja de Rozas, Rozas 1er Cru, Las Umbrías, Tumba del Rey Moro, El Tamboril Tinto, and Rumbo al Norte. El Tamboril is the duo's signature white wine and is made from 60+ year old Garnacha Gris and Garnacha Blanca. The vineyard is just 0.2 hectares in size and fruit ages in neutral French oak demi-muids. Round yet balanced, this may just be one of the best expressions of Garnacha Blanca that we've ever tasted.
'La Bruja de Rozas' is the duo's 'village' level red wine and is produced from 50 to 80-year-old Garancha. After a 40-60 day maceration, the wine ages for nine months in oak vats. Perfumed, energetic, and fruit-forward, this wine is great for drinking now. Like La Bruja, fruit for 'Rozas 1er Cru' also comes from several plots near Rozas de Puerto Real, though the juice is aged a bit longer. Tannins in this wine are a bit more structured and there is a strong mineral-presence in the wine.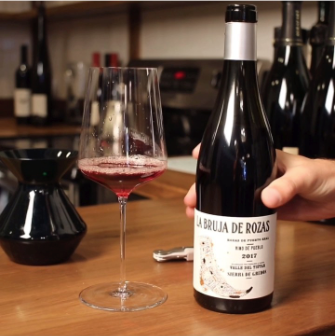 📸 : Verve Wine
'Las Umbrias' comes from a single-vineyard of 65-year-old vines grown at 1,000+ meters above sea level. The wine is floral and aromatic, marked by fine tannins and prominent red fruit flavors. Soils in this vineyard have some smatterings of clay, which add a punchiness to the final wine. Fruit for 'Tumba del Rey Moro' grows at even higher elevations and was basically inaccessible until the duo founded it, farmed it, and cleared it up for viticultural purposes. The wine is pale yet profound and sits amongst some of the best expressions of the variety that we've ever tasted.
'El Tamboril Tinto' was first produced in 2016 and has seen wild success since day one. This soaring vineyard is situated at 1230 meters above sea level and fruit is gently macerated for 65 days. Because of its high altitude, El Tamboril hardly ever reaches more than 12.5 degrees ABV. This thought-provoking and wildly aromatic cuvée is very limited in production. 'Rumbo al Norte' comes from a small 0.3 hectare single-vineyard of vines and has been described as the most 'generous' of Comando G's lineup of wines. Fruit here tends to show darker and spicier flavors, as well as more prominent tannin structure. Delicate and sophisticated, this could ultimately be dubbed Comando G's 'Grand Cru' cuvée.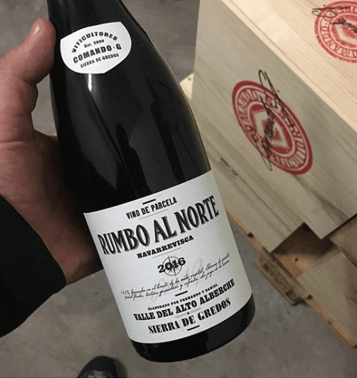 📸 : Decantalo
Pairings & Aging
Comando G's wines are perfumed, high in acid, and marked by gritty yet well-integrated tannins-- in other words, they're ideal for pairing with a variety of dishes. Because of their floral, fruit-forward, and spicy nature, we recommend serving these wines with wild game, poultry, and all things barbecue. Vegetarians, fear not-- these wines will make all of your lentil based chilis and veggie crockpot stews come to life.
---