Everything You Need to Know About the Loire Valley
No French region over delivers like the Loire Valley. Located in northwest France, this vast area is home to over 75,000 hectares of vines, most of which are cultivated on the hillside banks of the region's eponymous river. Known for thirst-quenching whites and earthy, chillable reds, these bottles are the best of both worlds, as they make our palates happy and keep our wallets in check all at the same time. From long-standing classics to 'natural' focused up-and-comers, get to know everything you need to know about this famed French wine region, here.
Loire Valley Basics
The Loire Valley spans from Muscadet in the west to Sancerre in the east, and in total, is home to 87 appellations. Wines of all colors and styles are produced here, ranging from bone dry expressions to sticky sweet dessert wines, vinified in both still and sparkling format.
The Loire Valley is home to some of France's oldest castles/châteaux, and its viticultural history runs just as deep. On the contrary, the region has also become synonymous with up-and-coming growers who are shaking up the region's viticultural scene. Many of these vignerons farm their vines organically and/or biodynamically, with a huge emphasis on respect for the environment placed first.
This means that many wines produced from these vineyards/cellars are honest, responsibly made, and extremely reflective of the place from which they come. Many Loire Valley winemakers take a 'minimalist' approach in the cellar, meaning that not much is added or taken away and native yeast fermentations are often implemented.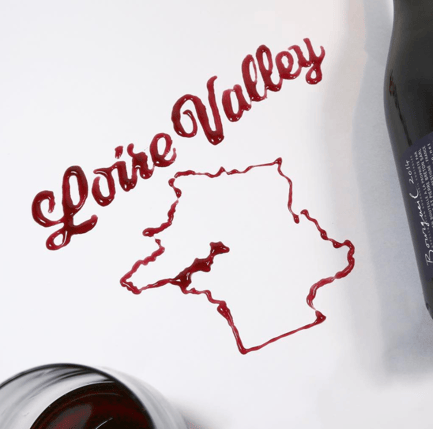 📸: Verve Wine
Classification Systems / Appellation Requirements
In total, the Loire Valley is home to 87 designated appellations. Many large-scale wineries bottle their wines under the overarching VdP Val de Loire appellation, meaning that the wines are produced under less-strict standards than those bottled under more regionally specific AOPs. The Loire Valley is also home to a ton of Vin de France bottlings, which allows producers to march to the beat of their own drums and craft wines without adhering to regional rules. This could mean that 'non-permitted' grape varieties/blends are vinified or that certain vinification practices are used at liberty in the cellar.
Regions
The Loire Valley is most commonly divided into three main sections: Upper, Middle, and Lower. The Upper Loire is located towards the center of France and is the closest of the three regions to Paris. This overarching region comprises Sancerre and Pouilly-Fumé, which are best known for their signature Sauvignon Blanc bottlings.
The Middle Loire is the meat of the appellation, composed of Touraine, Saumur, Anjou, Chinon and Vouvray. Here, a hodgepodge of viticultural activity takes place. Touraine is known for its affordable crisp white wines made from Sauvignon Blanc, as well as easy-drinking reds crafted (mostly) from Gamay. Anjou, Saumur, and Vouvray are home to some of the world's best Chenin Blanc producers. Although tons of dry/still cuvées are produced here, Saumur is known for its sparkling crémants and Vouvray is regarded for its signature sweet dessert wines. Chinon, Bourgueil, and Saint-Nicolas-de-Bourgueil are esteemed for their high-quality Cabernet Franc based wines (insider fact: the locals refer to the Cabernet Franc as Breton). These wines are earthy, peppery, and red-fruited, both drinkable in their youth and with age on them.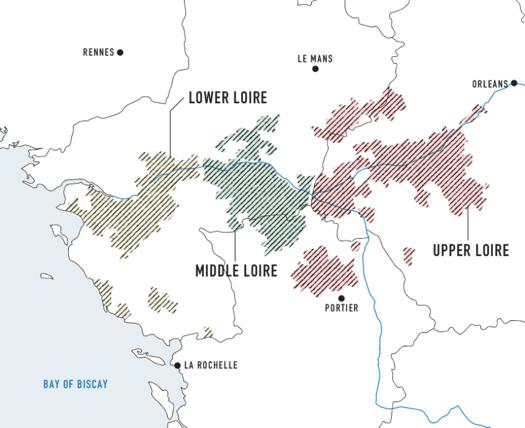 📸: Verve Wine
The Lower Loire, otherwise known as the Pays Nantais, is Muscadet country. Here, the Melon de Bourgogne grape is used to craft thirst-quenching white wines that get their texture from the region's signature sur lie aging tactic. This lees-aging technique can often lead to residual sediment in the bottle, though these bits of yeast are harmless and are completely OK to drink.
Terroir
The Loire Valley's namesake river greatly influences the overarching climate of the region. The river retains and reflects heat, which helps moderate the cooler climates of surrounding vineyard sites. The Loire Valley is characterized by a continental climate, though the western area of the region can be a bit more humid due to ocean influence. The region's chilly winter temperatures and climate extremes can bring potential frost hazards during ripening, though the same precipitation during autumn months can aid in the development of botrytis (noble rot), an essential component for many of the region's sweet dessert wines.
Soil types across the Loire Valley play a huge role in the different varieties cultivated and styles of wine produced. In the Pays Nantais, soils rich in gneiss, schist, and granite reign king, whereas slate, schist, and sandstone tend to dominate in Anjou. In Saumur and Touraine (as well as other parts of the Loire Valley) signature tuffeau soil can be found, which is essentially chalky limestone. In the east, flinty silex soils made from clay, limestone, and silica are most prominent, which give the wines of Sancerre and Pouilly-Fumé their signature stony flavors.
Grape Varieties / Flavor Profile
The most commonly cultivated white grape varieties in the Loire Valley are Melon de Bourgogne (Muscadet), Sauvignon Blanc (Pouilly-Fumé and Sancerre wines), and Chenin Blanc, which is used to craft still/sparkling wines ranging from bone dry to unctuously sweet (Note: the three major appellations for these dessert wines are Quart de Chaumes, Bonnezeaux, and Coteaux du Layon). The Loire's signature red grape variety is Cabernet Franc, though ample amounts of Pinot Noir Gamay, Grolleau, and Pineau d'Aunis are also cultivated.
📸: Verve Wine
Many Loire Valley winemakers choose to block malolactic fermentation and avoid barrel fermentations/new oak to maintain fresh and fruit-forward flavor profiles in their wines, though there are plenty of exceptions. This, coupled with the region's cool temperatures, leads to steely and crisp whites/rosés. Red wines from the Loire Valley are generally characterized by high levels of acid, tart red fruit flavors, and earthy/mineral-driven undertones. Common flavors include white pepper (signature for Pineau d'Aunis), green bell pepper (signature for Cabernet Franc), and wet rocks. These wines come alive when served with a slight chill, so be sure to pop them in the refrigerator for a quick ten minutes prior to serving.
Food-Pairing
The Loire Valley is home to some of France's most traditional food and wine pairings. Creamy goat cheese and Sancerre, freshly shucked oysters and Muscadet, and tarte tatin with a rich pour of Chenin from Coteaux du Layon or Quart de Chaumes are just a few of the region's signature gastronomical marriages. However, thanks to the wines' high acid, low levels of tannins (reds), and overall versatility, the options for creating custom food and Loire Valley wine pairings are endless!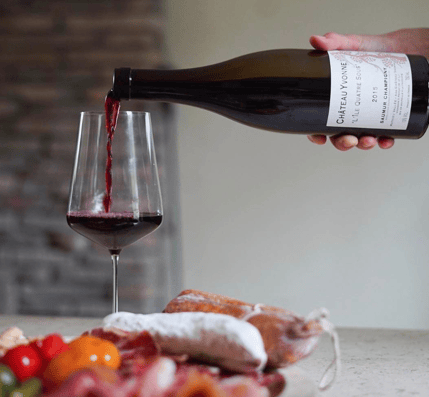 📸: Verve Wine
Key Producers
As always, knowing who to drink from is key. Here's a short list of some of our favorite Loire Valley producers that you absolutely need to know:
- Domaine Vacheron (Sancerre)
- Francois Chidaine (sparkling, Montlouis-sur-Loire)
- Thibaud Boudignon (Anjou)
- Château de Bonnezeaux (Anjou)
- Domaine Guiberteau (Saumur)
- Château Yvonne (Saumur)
- Domaine Huet (Vouvray)
- C&P Breton (Bourgeuil)
- Clos Rougeard (Saumur-Champigny)
- Domaine de l'Ecu (Muscadet)
---